The Electric Hoists range is manufactured with the help of the latest techniques so as to ensure that they are capable of meeting the industrial requirements and withstanding the rigors of the industry. Electric Hoists are highly applicable in the various industries because of their robust construction. These Electric Hoists are well known for their attributes such as longer life, durability, corrosion resistant and sturdiness. Our customers can avail this Electric Hoist at reasonable prices as per their specific requirements.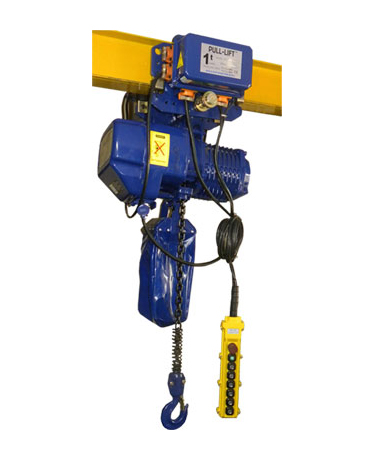 Features of Electric Chain Hoists
Body : Light aluminium alloy steel body which is light but hard and fit for hazardous conditions.
Side magnetic braking device : This device shall release the instant brake in case of the power failure.
Chain : The chain used is imported FEC80 ultra heat-treatable aluminium alloy chain.
Hook : It is hot forging with perfect strength that is hard to break. The operation safety of the lowerhook is ensured by its 360 degrees rotation and safety tongue pieces.
Support Frame : The loading support frame consists of two steel plates, which is extremely sturdy.
Transformers : 24V/36V transformer device. This device is used to prohibit unexpected accidents caused by electric leakage and guarantees the safe use while raining.
Electromagnetic contractor : Electromagnetic contractor can be used safety under high frequency.
Inverse phase sequence protecting device : Its is special electrical installation which controls the circuit not to work on case of wiring error in the power supply.
Push Button : Waterproof push button is applied. It is light and durable.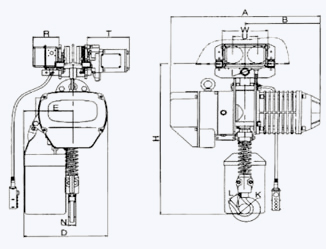 Technical parameters for Hoist
Technical parameters for trolley