These Anti Vibration Pads are fabricated in a manner so as to reduce or eliminate the transmission of noise and vibration in the applied product. These Anti Vibration Pads contribute towards regulating noise pollution that is hazardous for the workers in the industries and factories. With the help of our products, our customers can enhance the life and longevity of their machinery & components. These can also be made ion combination of high compression strength, stable low installation height and low shear stiffness that makes these pads deliver versatile performance.
Compact Machinery Mounts, Series DH
Compact Machinery Mounts uses rubber in compression and shear. They provide tight tolerances on stiffness rate for accurate vibration calculations. Load range is from 40 to 130 Kgs per piece. The strong base metal withstands high shock loads without deformation. Fitted as standard with a shock-proof device (up to 4.5g) with resilient stop, it is ideal for mobile or marine use. Domed shape cover to protect against oil contamination. Light weight and compact. Ideal for Diesel Engines, Compressors, Cooling Towers, Pumps, Industrial Generators, Marine Generators, ID, FD Fans etc.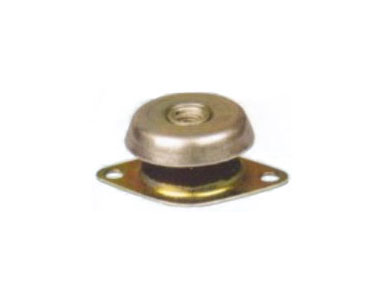 Studmountss, Series DS are highly effective and compact vibration dampers for a variety of applications like – Compressors, Pumpss, ID & FD Fans, Motors, Machine tools, Gensets, Air COnditioners, Measuring and Testing Equipments / Instruments, Material Handling Equipments, Laboratory Equipments etc.
Mac Level Series DML is suitable for high speed rotating machines having small or no axial forces.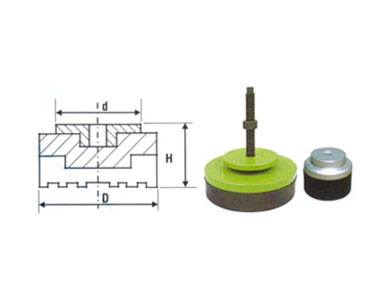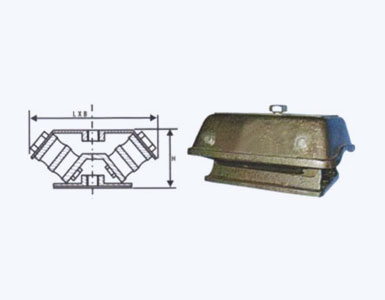 Divil Flexifoot, Series DGF
FlexiFoot Mounts, Series DGF are well suited for machines requiring vibration dampering in both compression and shear. An anti skid plate is provided in the base of the mount to prevent machine walking. These mounts can also be anchored to the floor through the holes provided in the base for machines generating high unbalanced forces. They are highly effective for a variety of applications like – Generators, Blowers, Pumps, ID & FD Fans, Cooling Towers etc.
Divil Sandwich Mounts, Series DMS
The Sandwich Mounts comprise one or more layers of elastomers bonded to flat steel plates. They are designed to withsand very high compressive loads. They are very slim, large supporting surface are, stackable mounts. The suspended equipments is free to move in all directions. High ratio of axial stiffness to radial stiffness. Ideal for very high axial loads.